General information
Capital: New Delhi.
Official language: Hindi. Other languages with official status English ("associate official language"); some 14 additional languages, of which Bengali, Telugu, Marathi, Tamil, Urdu, Gujarati, and Malayalam are widely spoken.
Official name: Bharat (Union of India).
National anthem: "Jana-gana-mana" ("Thou Art the Ruler of the Minds of All People").
Largest cities: (1991 census) Bombay (9,908,547); Delhi (7,174,133); Calcutta (4,388,262); Bangalore (4,108,013); Madras (3,795,028)
India's flag was adopted in 1947. It has horizontal stripes of orange-yellow, white, and green. The wheel is an ancient symbol called the Dharma Chakra (Wheel of Law).
India's national emblem is copied from a pillar built by Asoka, an ancient Indian emperor. The words in Sanskrit beneath it mean "Truth alone triumphs."
Land: In southern Asia, north of the Indian Ocean. Borders Pakistan, China, Nepal, Bhutan, Burma, and Bangladesh. Most of northern India a low-lying plain that includes the valleys of the Ganges and Brahmaputra rivers. Himalaya rises in the far northern parts of the country. Groups of rugged hills in extreme eastern India--near Burma and the eastern parts of Bangladesh. Large triangular peninsula that forms southern India is plateau with slopes dropping down to coasts. Slopes especially sharp near west coast.
Area: 3,287,590 sq. km. Greatest distances--north-south, about 3,200 km; east-west, about 2,740 km.Elevation: Highest--8,598 m above sea level. (Kanchenjunga, in the Himalaya). Lowest--sea level.
Climate: Entire country, except mountains, hot from March to September. Early part of hot season very dry; but from June onward, monsoon rains bring relief from extreme dry heat. Mild temperatures in northern and central India from October to February; in far north, temperatures occasionally drop below freezing. Southern India lacks true cool season, but October to February not so hot as rest of year. Northeast and west coast receive heavy rainfall. Near-desert along Pakistan border. Remainder of country receives moderate rain, but suffers occasional drought. (Top)
Form of government: Parliamentary democracy.
Head of state: President.
Head of government: Prime minister.
Legislature: Parliament: Lok Sabha (House of the People, 545 members) and Rajya Sabha (Council of States, 245 members).
Executive: Prime minister.
Political subdivisions: 25 states and 7 union territories. (Top)
Population: Estimated 1996 population--947,803,000. 1991 census--856,989,085. Estimated 2001 population--1,035,481,000.
Population density: 288 people per sq. km.Distribution: 73% rural, 27% urban.
Major ethnic groups: Indo-Aryans, majority in northern and central India. In the southern states, where Telugu, Tamil, Kannada, and Malayalam are spoken, most people are Dravidians. People related to Tibetans and Burmese in northern and eastern border states.
Major religions: 83% Hindu, 11% Muslim, 3% Christian, 2% Sikh. (Top)
Chief products: Agriculture--bananas, beans, chickpeas, cotton, jute, mangoes, millet, peanuts, pepper, potatoes, rice, sesame seeds, sorghum, sugar cane, tea, wheat.
Manufacturing and processing--brassware and silverware, cement, chemicals, clothing and textiles, electric motors, fertilizer, iron and steel, jute bags and rope, leather goods, machinery, medicines, motor vehicles, paper, rugs, sugar, wood products.
Mining--iron ore, petroleum.
Money: Currency unit--Indian rupee. One rupee = 100 paise.Gross domestic product: 1991 total GDP--U.S. $268,006,000,000. 1991 GDP per capita--U.S. $313.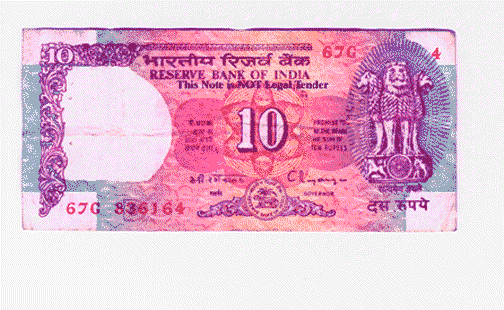 - A ten rupee note.
Foreign trade: Major exported goods--clothing and textiles, gems and jewellery, machinery, leather goods, chemicals. Major imported goods--petroleum products, nonelectrical machinery, pearls and gemstones, iron and steel. Main trading partners--Germany, Japan, Saudi Arabia, United Kingdom, United States. (Top)
Highlights
Bombay. India's largest city, near centre of west coast.
Delhi, national capital, in north-central area.
FAR NORTHERN INDIA (NORTH OF DELHI)
Himalaya. Lofty snow-capped peaks, Tibetan Buddhist monasteries. Some trekking and mountain climbing.Hill stations. Simla, Mussoorie, and other towns in the Himalayan foothills; pine and deodar (cedar) forests, cool relief from the heat and dust of the Ganges plain.
Corbett National Park. Tigers, elephants, and leopards in the Himalayan foothills east of Delhi.
Punjab. India's most productive farming area. Wheat fields.
Vale of Kashmir. Valley surrounding city of Srinagar. Farms, fruit orchards, and flowers encircled by towering peaks. Dal and Wular lakes, floating gardens, houseboats. Horseback rides to high mountains and glaciers. (Top)
Agra. Taj Mahal, magnificent white marble memorial built by Shah Jahan in 1600's in memory of his wife, Mumtaz-i-Mahal.
Jaipur. City of pink sandstone buildings; Palace of the Winds with delicately decorated overhanging windows. Amber Palace, just outside Jaipur, has Chamber of Mirrors.
Varanasi. Sacred city where Hindus bathe in Ganges and hope that after death and cremation their ashes will be scattered into the river.
Khajuraho. West of Satna in Madhya Pradesh. 22 temples, decorated with delicate sculptures, some erotic.Kanha National Park. Tigers and deer in open woodland, southeast of Jabalpur. (Top)
Udaipur. City of lakes and palaces.
Ajanta and Ellora Caves. North of Aurangabad. Cave temples cut into rock. Wall paintings at Ajanta.
Goa. Colony of Portugal until 1961, combines Portuguese and Indian atmosphere. Tomb and relics of Saint Francis Xavier. Beautiful beaches. (Top)
Calcutta. One of the world's most crowded cities, textile manufacturing. Mother Teresa began her work for the poor there. Maidan, a large park, occupies about 5 sq. km.
Puri. Jagannath temple (closed to non-Hindus). At annual Car Festival, monstrous locally-built vehicle with 16 wheels, pulled by thousands of people, carries a huge temple image to and from a "summer house" for a week. Word juggernaut comes from Jagannath.
Konarak. Sun temple in shape of a large chariot.
Bhubaneswar. Hundreds of Hindu temples. (Top)
FAR NORTHEASTERN INDIA (NORTH AND EAST OF BANGLADESH)
Sikkim. Remote Buddhist state in lush Himalayan foothills. Forests, monasteries, trekking, views of Mount Everest and Kanchenjunga.
Darjeeling. Hill station just south of Sikkim, dense forests, tea plantations, winding narrow-gauge railway to Siliguri.
Kaziranga National Park. On south side of Brahmaputra River, east of Nowgong. Rhinoceros, elephants, otters, river dolphins.
Megalaya. Beautiful forests. One of the world's rainiest spots is at Cherrapunji with about 11 m of rain per year.
Arunachal Pradesh, Nagaland, Mizoram. Home of hill tribes related to Tibetans and Burmese. Area mostly closed to tourists. (Top)
Hyderabad. Muslims ruled this mostly Hindu area from the 1500's to the 1940's. Mecca Mosque; Charminar gateway arch, thought to have been built to commemorate the end of a plague.
Madras. Seaport and industrial city; produces motor vehicles and films. Hindu temples and Christian Cathedral of Saint Thomas. Long sandy beach.
Dravidian temples. Pyramidal towers differ from temples in northern India. Meenakshi temple in Madurai; others in Kanchipuram, Mahabalipuram, and elsewhere. (Top)
Nilgiri Hills. Along the Tamil Nadu-Kerala border and the Kerala-Karnataka border. Rugged forested area. Tigers and elephants found in several national parks. Hill resort town of Ootacamund.
Bangalore. One of India's most modern cities; produces aircraft, electronic equipment, machine tools; lovely gardens.
Mysore. Sandalwood centre, major producer of incense.
Belur, Halebid, Somnathpur. Small towns near Mysore: temples of the Hoysala dynasty with intricate carvings of gods, people, and animals.
Sravanabelagola. Near Mysore. Jain statue of Gomateswara, more than 17 metres high and 1,000 years old, perched on rocky hill above town.
Kerala. Palm-fringed, sandy coast with lagoons; rice paddies; tropical fruit; cool mountainous border with other states. Higher literacy and less poverty than most other Indian states. Kathakali dance-dramas.
Cochin. Long an important seaport. Indian, Portuguese, and Dutch influences.Kovalam. Beach resort near Trivandrum at southern tip of India.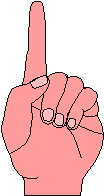 ( Back to top )