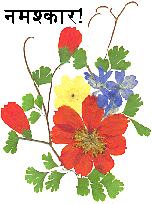 E-mail with INDIA- a site by Abhishek Sood!

Art of India
The colonial and modern periods
The British, who ruled parts of India from 1757 to 1947, brought new styles of art and architecture. Their influence was far-reaching. For example, when Governor General Lord Wellesley (the brother of the future Duke of Wellington) decided in 1798 to build a grand home in Calcutta, he chose a design based on Kedleston Hall, a mansion in Derbyshire, England. Other British officials in India also copied great houses in Britain. Some Indian princes and merchants followed their lead and built palaces and mansions in European styles.

Until the middle of the 1800's, most British government buildings in India were built in the classical style. Some historians argue that the British chose a style similar to that of ancient Rome to make the point that their empire was like the Roman Empire and stood for such values as law and order. In the late 1800's and early 1900's, a style known as "Indo-Saracenic" came into use. The basic design was Western, but architects added Indian features such as domes, kiosks, and fine carved stonework. Two good examples are the Gateway of India in Bombay (now Mumbai), designed by George Wittet in 1927, and the Albert Hall Museum in Jaipur (now known as the Central Museum) built by Samuel Swinton Jacob, from 1876 to 1887.

The British hired artists to paint pictures of their homes in India. They also collected sets of paintings of Indian rulers, plants, animals, and birds. Outstanding works of this type were produced in the 1770's and 1780's by Shaykh Zayn al-Din for Lady Mary Impey, wife of a Supreme Court judge in Calcutta.

The British also established art schools in India. Traditionally, Indian artists had passed skills and techniques from father to son. Young artists had received their training in workshops. The new British-style art schools attracted many upper class students who were interested in Western techniques and styles. One of the best known of the early painters to work in oil on canvas was the portrait painter Raja Ravi Varma (1848-1906).

The Tagore family of Bengal were important in shaping India's modern art. The Tagores stressed India's spiritual heritage. They felt it was important for an artist to use his or her "inner eye" rather than to follow the academic teachings of the British art schools. Abanindranath Tagore taught at the Government Art School in Calcutta only after he obtained the freedom to teach his students in his own way. Rabindranath Tagore, who won a Nobel Prize for literature, founded a new educational centre, Santiniketan, where art was an important concern. Rabindranath Tagore brought together many different artists--from cities and villages, from Europe, and from other parts of Asia. He felt that students should see art in as many styles and media as possible and should have complete freedom in their form of expression. One of the most important contributions of the Tagores was bringing Indian artists in touch with their own heritage--ranging from the skilful paintings of Ajanta to the bold and beautiful art of village India. Rabindranath Tagore, interested mainly in literature, did not begin to draw or paint seriously until he was 67 years old. By the time of his death at the age of 81, he had produced nearly 2,000 works in ink and watercolour.

Amrita Sher-gil (1913-1941) gained international acclaim in the early 1900's. Her father was Indian, her mother Hungarian. Sher-gil studied in Paris but decided it was necessary to return to India to find her own style. Her paintings, many depicting village or country life, show both Indian and Western influences. Sher-gil's career was short; she died after a sudden illness aged 28.

Among the best known and most widely honoured of India's modern artists is M. F. Husain (1915-...). As a young artist starting out in Bombay in the 1930's, he painted film posters to make a living. Over the years his work has been varied. It includes drawings, oil paintings, enormous murals, and works combining photographs and print. His oil paintings, for which he is best known, are expressionist in style . An early series captures in line and colour the energy and movement of horses. Many other works are of everyday scenes. Husain frequently uses only a few colours, subtly mixing a variety of shades and tones.

M. F. Husain is, however, only one of dozens of modern artists producing work of outstanding quality. K. G. Subramanyan is best known for his terracotta relief sculptures and his paintings on glass and acrylic sheet. Meera Mukherjee works in the cire-perdue (lost wax) process of metal casting, creating rhythmic swaying figures (see SCULPTURE). Painters include Bhupen Khakar, who captures the life of ordinary, middle-class people. S. H. Raza's modern abstract works are influenced by ancient religious and cosmic diagrams. Vivan Sundaram, in paintings such as Portrait of Father, uses a style of modern realism .

Architects have also mixed the traditional and contemporary. Outstanding architects include Charles Correa and Balkrishna Doshi, both of whom use local materials and forms to create buildings that are both "Indian" and "modern."